Jun
30
Everyone has different ways of doing things. Some people write to music, some people can't. Some people need to write in a crowded place, others perfer seclusion. Me, I need a little bit of distraction (hello internet) but I also need quiet. I can't write to music with words, or else the words get mixed up in my head with what I'm trying to write. But I can write to instrumental music or music with words in a language I don't understand. On the other hand too, I sometimes hear a song and think that it would go perfect with a scene. For some reason I've had this idea that if The Unthinkable was ever a movie then the closing song as the camera pans away should be "Solsbury Hill."
Right now it is quiet, the only sound being some birds outside and the ceiling fan. Even the gerbils have stopped chewing on things and gone to sleep, quite adorably. So, I guess I'm off to write.
Jun
27
Remember how last week I said a friend basically forced me to send out a query last week? Remember how i've sort of been whining about getting frustrated? Yeah. That one query letter I did send got a postive response. I was asked for a few pages, which I sent. No garuntees anything wil come of it, but it's nice to get something positive!
Jun
25
I've been writing a lot of background stuff lately for the Berger world. Not really anything that's publishable, just stories. The little histories that make up people and the world they live in. Those family stories you tell with a laugh or maybe a sense of pride. Of course this is all fictional, but it's good exercise to see how families interact and change over time.
Maybe I'll go a completly different direction for nanowrimo this year and write some quiet domestic story instead of my usual action stuff. Of course even my most adrenaline fueled story is really about people.
It's hard to explain without sounding half-crazy, but in my experience after you work with a character for a while they tend to take on a life of their own. So it might be interesting to just create a fairly normal family, add a pinch of drama and see if I can write it.
Jun
23
My friend Luis emailed me this link yesterday. Yes it's an advertisement, but it dovetails quite nicely with the stuff I've been saying the last week or two and you really should watch it. It's short.
http://www.youshoulddoitnow.com/
Jun
20
I've been finding myself lately in the odd (to me) position of playing cheerleader to a couple of my friends that are going along the writers journey. There is some satisfaction in watching someone else go along and reassuring them that yes, this is all perfectly normal, and though it might feel odd it's a good thing when the story starts to take over.
I don't have all the answers, and I'm sure I never will. But I'm glad my experience can help others. Even if most my advice is "don't think about it, just write it anyway." Writing is a strange profession in many ways, but also one that can be very rewarding. And I'm not talking about monetarily (though thats always nice).
Jun
18
So a very good friend I keep in touch via email said to me yesterday: "I'm not reading any more of your emails until you send out at least one more query letter." I've had a few others get on my case, especially since Monday's post about that. So I'm going to finish my breakfast, break out my writers market (actually it's already broke out, I just need to find some places to query), and get to work. I'll post Friday how many letters I get out today.
And I think I might just start trying to query publishing houses and not just agents.
Thanks, all of you.
Jun
16
Times of great failure or times of great success, the problem is the same (how do you keep going?) and the solution is the same: You write the next thing.
That quote is from his yesterdays blog and a question about motivation. I couldn't agree more. Inertia effects everything; especially the creative arts. I'm sitting here right now with at least two stories I could be working on, maybe even should, plus I still have to go back and edit the last novel. And I am writing, a bit, but I'm ignoring the urge to really have at anything, to really let myself get lost in a story.
Part of that is discouragement. While my friends and readers have been nothing if not enthusiastic, I'm getting frustrated that I can't seem to sell anything. Some of this is my own fault, as I haven't put the short stories back in the mail yet and I really do need to send out another round of query letters. Of course nobody is going to buy anything if it's not out on the market.
But those same friends are good at being encouraging. I get hung up sometimes on the distinction (in my head anyway) between being a writer and an author. In my own head that first definition is an amateur, someone who wants to write, while the second is published. I will get published, eventually, if I persevere. Even if its a short story in some small out of the way publication. I just have to keep going.
And write the next thing.
Jun
13
I'm not participating because I suck, but for the rest of you: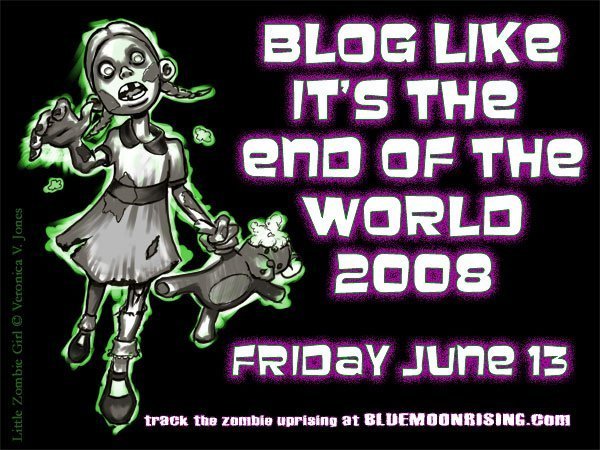 Jun
11
"A designer knows he has achieved perfection not when there is nothing left to add, but when there is nothing left to take away." ~Antoine de Saint-Exupery
Okay I used this quote because I've been playing a lot of Civilization IV and it's one of the quotes on there when you get a technology. But it's equally true when it comes to writing and editing.
When I write a first draft I tend to paint with a broad brush. I get my ideas down, skim over stuff I'm not 100% on and just try to get my ideas and my world down on paper. Usually somewhere (hopefully after a couple of chapters) the characters take over and then I'm really just trying to hit the high notes, make sure I'm getting the gist of it down.
Second draft I expand. I fill in those missing gaps. I breathe more life into those shaky beginning chapters now that I know those characters better. Sometimes I cut. In the second draft of Grace I deleted one of my favorite scenes because it didn't fit with the chapter rhythm of the rest of the book.
Third draft though, I really cut. I savage. I omit those needless words hanging on like dead weight. In writing, like many other arts, it is not so much what you say as what you don't say. That's hard to explain, but something you get better at with time.
That's why reading aloud can sometimes be good, especially with dialogue. Of course it's also possible to whittle away at your story until there is nothing left. That's why it's important to know what parts are bedrock and what parts aren't. It's another skill that comes with practice, but an invaluable tool.
Jun
9
Phew. It took me almost two weeks to get through "The War of Art" by Steven Pressfield. I picked this book up because i kept seeing recommendations for it, plus at least one friend who suggested it well over a year ago. But it's a bit of a dense book.
Part one defines and talks about what Pressfield terms Resistance. Resistance is that inertia that keeps you from writing or pursing your dreams. Anyone whose ever stepped outside their comfort zone knows this well. Resistance is that little voice that tells you to put it off, you can do it later. Much of this I already knew, but that's because I made the decision a year ago to stop letting it get me and just write.
The second part talks about what differentiates the professional from the amateur. I found some relief in this part, that even though i haven't sold a darn thing I still, by the definitions of this book anyway, fall into the category of the professional. Mainly I show up to do it every day, I at least expect to get paid for it (eventually), and well, it's a job, not just a hobby.
Part three, well, some parts of it made me roll my eyes a bit. Here he gets into angels and muses and the divine well of inspiration and ideas. I think a lot of this is open to debate, but I do see where he's coming from.
It's not a bad book. Just one I had to read slowly, in pieces. A lot of it I knew already, but it's always reassuring to realize you aren't crazy, the process is normal and in fact if you're not meeting Resistance then perhaps you should check yourself. I'd recommend it, if nothing else just for the assurance factor.
keep looking »